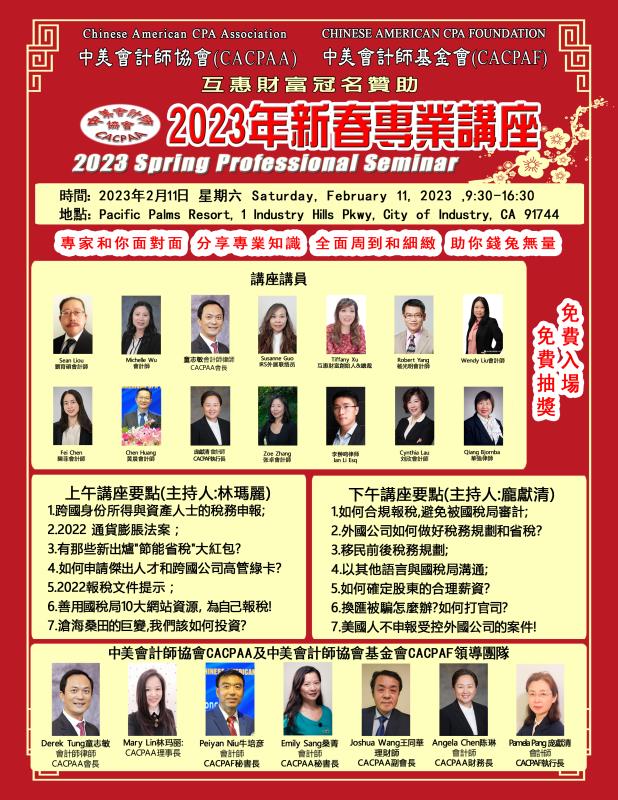 Feb 11, 2023
CACPAA will hold no fee lectures to the plublic.
Date: Feb 11, 2023
Place: 3rd floor, 1 Industry Hill Pkwy, City of Indusyry, CA 91744
Topics include: Tax, Investment, Law, Immigration.
Free Parking
Raffle Tickets
About Us
The Chinese- American CPA Association (CACPAA) was founded in 2011 as a non-profit organization in the United States. It was established by CPAs of Chinese descent in the United States who originally came from China, Taiwan, Hong Kong, Macau, and other Asian countries or regions. In addition to accounting, CACPAA has attracted members from many fields, including finance, insurance, law, real estate, and academia. In 2015, the Chinese American CPA Society of Southern California, founded in 1982, joined forces with the CACPAA, bringing approximately two hundred members. The resulting entity continues to operate under the name of CACPAA and has become one of the largest and most influential professional organizations in the ethnic Chinese community. CACPAA members are typically bilingual in English and Chinese and possess strong technical expertise in their professions. The Directors of the CACPAA Board are leaders and elite members of their own communities; many of them are successful professionals and entrepreneurs highly respected in their fields. By enthusiastically giving back and providing free professional services to the ethnic Chinese community, CACPAA helps to connect mainstream America and ethnic Chinese community members for professional and business development.
Our Mission
CACPAA is a non-profit, non-political and non-religious organization dedicated to promoting professional and business collaboration among members, associates, businesses and other professional organizations. The mission of CACPAA includes:

Providing quality continuing professional education (CPE) to members;
Empowering members to acquire and sharpen the professional skill sets required by the globalized business world;
Supplying pro bono education, consulting and referral services to the local community in the areas of taxation, accounting, law, investment, wealth management, insurance, etc.;
Promoting business interactions and professional relationships among members and affiliates;
Encouraging younger generations to pursue careers in accounting by providing necessary counseling and career training opportunities;
Serving as a platform to connect members to CPA organizations and chambers of commerce located across the United States, as well as China and other Asian countries or regions.
Driven by its mission, CACPAA holds periodic member meetings to facilitate networking, presents keynote speakers and informative seminars to members and to the local community, provides free tax preparation and consulting services to low-income families, and performs outreach to neighboring municipalities, chambers of commerce, and professional organizations to help members gain exposure to new business opportunities. With the collaboration and efforts of all its members, CACPAA is playing an increasingly important role in bringing together local professionals and international businesspeople in the ever-growing global market.
Sponsors