The love of professionals does not fall behind-The China-American Accountants Association donated materials to major hospitals to support frontline medical staff!
As the epidemic in the United States continues to heat up and the number of infections continues to increase, Los Angeles has become the second most infected city after New York. The PPE-Personal Protective Equipment in major hospitals is in serious emergency. After the professional members of the China-America Association of Accountants have done their best, they spared no time during the busy tax season and actively invested in donations and donations, with love and practical actions. Give back to the society. In just a few days, it has raised $18,300, and has purchased and donated 20,000 medical masks, 20,000 gloves, and 1,000 goggles.
During the period from April 1st to April 8th, the members and directors of the China-American Accountants Association actively sought and contacted hospitals in urgent need of PPE. At the same time, in the face of rising prices and uneven quality of sources, they were cautiously seeking and comparing supplies. Quotient. Mr. David Lin, the director of the association, did his best to find genuine masks for the association. Also involved in the donation work: Chairman Liu Xin, Vice Chairman Chen Lin, Vice Chairman Sang Jing, Director Lin Marie, Lawyer Li Bin, Director David Lin, Chief Financial Officer Niu Peiyan, Former Chairman Qiu Jing, Director Victor Wang, Director Joshua Wang and Claudia Lin. Regardless of the severity of the epidemic, the directors personally delivered these valuable medical supplies to: Pomona Valley Hospital, Adventist Health White Memorial, Long Beach Memorial Hospital, Garfield Hospital, Methodist Hospital of Arcadia, UCLA Health, Beverly Hospital, and the shelter hospital LA County Department of Housing for Health. The behavior and love of sending charcoal in the snow made these medical staff who are fighting the epidemic on the front line very moved, and made the China-American Accountants Association feel proud to participate in the fight against the epidemic.
While helping major hospitals, the Sino-American Association of Accountants also does not forget to help its members. Under the advocacy of Accountant Huang Jiefeng and Accountant Qiu Jing/former president, the founding president Accountant Li Hao specially arranged a batch of masks to be distributed to members of the association for free. In addition, the former president Qiu Jing also donated 200 masks. At the same time, she also arranged a batch of 5,000 masks. She is arranging the way to the United States, which will enable more hospitals to receive material support. The Sino-American Accountants Association is both external and internal, professional and loving coexist.
Thanks to the members of the association for their generous donations. They are (in no particular order):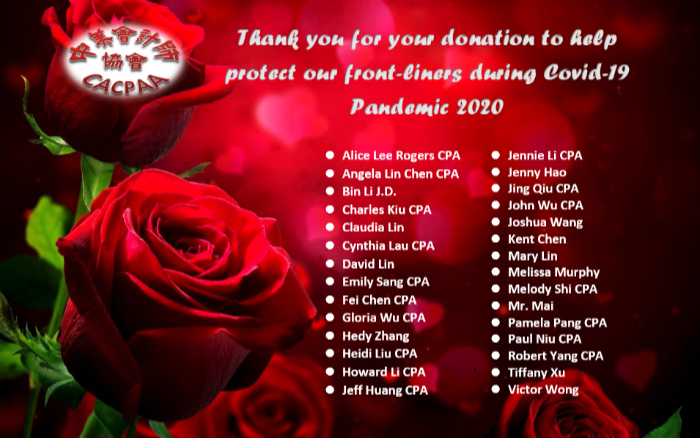 LA County Hospitals
Location: Pomona Valley Hospital, Adventist Health White Memorial, Long Beach Memorial Hospital…